Invitational Summer Institute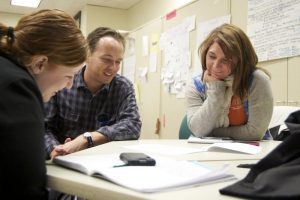 The Heart of Texas Writing Project is The University of Texas at Austin's affiliate of the National Writing Project. Our Summer Institute will help you develop your knowledge and ability as a writing teacher and as a leader in literacy professional development.  Participants at this institute write, read, research, and consult with other teachers.  Once you have participated, you will enter an exciting community of excellent teachers from the Austin area. As part of this group, you will receive support in your teaching and continuing professional development.  You may also have opportunities to provide professional development services to other teachers.  We invite experienced teachers of writing to apply.
Invitational Summer Institute details:
Please read all of this information carefully. Required dates and deadlines are important to our work.
Applications are due before February 28, 2020 at 5:00 pm. Online application form submitted AND supporting documents emailed to heartoftexaswp@gmail.com.
Find the application form here.
(There is support for the application process. If you have questions or want to talk to one of us about your responses, please do not hesitate! Email us at the above address.)
Monday, March 9: Required interviews. At UT's Sanchez Building, with group appointments beginning at 4:30.
March 12-16: Finalists announced.
REVISION!! March 28: First required Saturday orientation meeting, 9:30 am – 1:30 pm. At LIVELY MIDDLE SCHOOL/AISD.
May 2: Second required Saturday orientation meeting, 9:00 am – 1:00 pm. At UT Campus/Sanchez Building.
June 8 – July 2: Summer Institute at UT's Sanchez Building.
M-Th, 9:00 am – 3:00 pm.
Please note: The Summer Institute is an experience that cannot be engaged with at a distance. Your presence and daily engagement is essential in order for you (and others) to benefit fully from the Summer Institute.  Attendance is required.  If you already know of conflicts in your schedule, please let us know about them in your application materials.  If you already know you cannot make two or more days of the institute, another year might be better timing for your participation.
Please also note that space is very limited for our Summer Institute.
*******************
Teacher Testimonials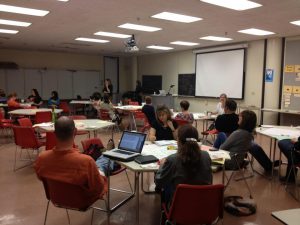 "This has fundamentally changed how I think of myself as a teacher and how I view my students. I feel like I'll return to the classroom ready to celebrate the individuality and strength of each child and then use those gifts to help them improve."
–HTWP Participant, Summer 2014
"These four weeks have been so critical to my teaching philosophy. I wish more people could attend these institutes, because it reminded me of the reason I became a teacher in the first place — to make a difference in the lives of all students. Now I have the tools I need to make this truly possible."
–HTWP Participant, Summer 2014
The Summer Institute "has transformed the way I think about my teaching practice and has also had a huge impact on my own writing life….I feel energized to engage in my own writing life and to share my own processes with students and teachers. This has been the most powerful and meaningful teaching institute I have ever attended."
–HTWP Participant, 2014