Job Postings
Job Opening at Oklahoma State, Stillwater, OK
The Human Development and Family Science Department at Oklahoma State University is seeking two clinical faculty members with
expertise in Early Childhood Education. Clinical faculty appointments are renewable term, non-tenure track appointments. Clinical
appointments are intended to offer a career pathway to individuals who have experience and qualifications in Early Childhood Education.
Job Opening at California State, Fresno
California State University Fresno has been authorized to conduct a search for an Assistant Professor of Early Childhood Education. The deadline for applications is November 16 and full details can be found in the attached announcement.
Ours is the oldest, continuous NCATE-accredited program in Early Childhood Education in California. We have a beautiful Reggio Emilia-inspired, NAEYC-accredited Huggins Early Education Center that includes an inclusive classroom.
We expect the successful candidate to have 2-5 years teaching experience in early childhood settings that includes, but is not restricted to, public school settings; an elementary education teaching credential or equivalent; experience working with diverse students, families and schools; demonstrated potential for research and scholarly activity in ECE; and, a strong background in the areas of ECE theory and research, foundations and curriculum.
Please send qualified candidates our way. Candidates from diverse/underrepresented backgrounds, or with experience working with diverse groups and in diverse settings are particularly encouraged to apply. For additional information on the University's commitment to diversity, visit:www.csufresno.edu/diversity.
Vivian Paley ~ Texas State ~ November 8!
On November 8th on the Texas State campus, the university will be presenting a keynote address by Vivian Gussin Paley at their celebration of Lady Bird Johnson's 100th birthday. Since Lady Bird Johnson was the first chairperson of Head Start, they have invited Vivian Paley to speak at 6pm in the Alkek Library teaching theatre. There will also be a panel of discussions earlier in the day about Head Start, early childhood policy and practice and the challenges and success thereof. See attached flyer for info about panelists, locations, times.
Job Opening at Columbia (NYC)
I'd like to call your attention to a position opening for an assistant professor in Early Childhood Education at Teachers College, Columbia University. Our search process has just begun and we will continue to review applications until the position is filled. We are eager to cast a wide net in advertising the position and are particularly interested in recruiting minority candidates and individuals from under-represented groups in early childhood education. We would greatly appreciate your help in bringing this announcement to the attention of qualified individuals with whom you are acquainted. Thanks so much.
Sincerely,
Susan L. Recchia, Ph.D.
Chair, Search Committee
Job Opening at Rutgers (Camden, NJ)
We are pleased to announce that we are seeking an addition to our department whose work addresses Global Childhoods. Please consult the attached position description and feel free to circulate widely.
Job Opening at Ohio State
*Biliteracy/Bilingualism and Early Childhood/Elementary Education *
Faculty search in the School of Teaching and Learning at The Ohio State University.
CRTE — Consortium for Research in Teacher Education
Meeting on September 25, 4-6 pm, SZB 442
Topic: Tips and Resources for Graduate Students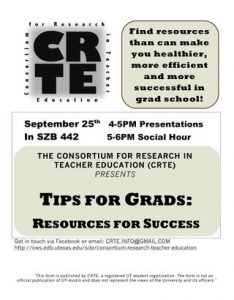 Volunteer Opportunity in Mexico
My name is Catherine and I'm the Director of Programming for an
educational non-profit organization based in San Miguel de Allende, Mexico
called the Rural Education Institute of Mexico, A.C. We are currently
looking for volunteer interns who would be interested in planning and
facilitating after-school activities for elementary and middle school
children in two rural communities surrounding San Miguel de Allende.
I've attached the flyer for the program and was wondering if you could
send it out to students and/or any other parties who may be interested.
Thank you for your time.
Best regards,
Catherine Walker
Director of Programming
Rural Education Institute of Mexico
www.ruralmex.org
Volunteer Opportunity in Austin:
Come and Play With Me needs volunteers to help with a new YMCA Early Learning Readiness program. This program is in its beginning stages and at this moment offers two classes: one in English and one in Spanish. The curriculum is participant based with monthly evaluation done on the children's progress to ensure their development is always considered. The focus of the YMCA Early Learning Readiness program is to help the child's caregiver become also a teacher for their children. The goal is to give families the tools for long term success.
The volunteer opportunity is a one-semester commitment of 1 day a week for two hours in classrooms. For those in need of hours and wishing to help with the child evaluations or curriculum development we also have volunteer community liaison positions available.
For more information, please contact:
Missy Quintela
Program Director
Program Services YMCA
YMCA of Austin
(512) 236-9622 ext. 357
(512) 478-8065 fax
"Childhood" Journal needs Reviewers
"Childhood: A journal of global child research is a multidisciplinary peer reviewed journal that publishes empirical and theoretical articles on children in a variety of geographic, social and cultural contexts. We are currently seeking book reviewers for forthcoming issues. Please find, attached, a list of titles currently available for review; if you would like to request a copy to review, please contact the review editior: Tom O'Neill, Brock University toneill@brocku.ca." (quoted from email by T. O'Neill, received Jan 25, 2010).