Meeting Notes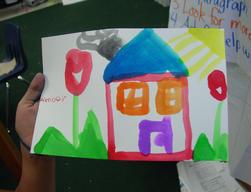 Check back here periodically to read about the topics of the most recent meetings.
Most Recent Meeting Notes:
Friday, September 7, 2012 at SZB 424
Purpose of meeting (as explained by Dr. Brown): "So we could all get together because we rarely get to meet together. The department (C&I) lost 4 people this year and another is leaving in December. Lots of turnover happens sometimes, and the department of education is still highly recognized. Next year they hope to put out a search for a new faculty member. In terms of the work, we are still plugging along – we have new master's students and are continuing to grow the program area."
Roles – Dr. Adair is on tenure track and Dr. Brown is trying to protect her time so she can get tenure. But she still wants to be available to talk and be helpful as she can. She just wants everyone to feel comfortable to talk with her if you want to – always call or email. …. Dr. Brown is now serving as graduate advisor and program coordinator… so he is here for help, and to help with questions. Dr. Jo Worthy is the graduate advisor for the whole program (C&I) so she can help out with some things too. They asked us to help and encourage each other on what classes to take, and how to navigate with other classes that may or may not be acquainted with ECE.
Calendar:
Graduation deadline is Oct 15
Registration deadline due Oct 29
Spring – Jen will teach Global Tues 7-10; Brown will teach Theories of ECE MON 4-7
Summer – Brown will again teach case study
Fall – Adair will teach (not sure), Brown will teach Human Inquiry
3 jobs will be added this year in social studies, sme, and bilingual ed, so you might want to go listen to some job talks to see what they are like (especially if you think you might do a job talk some day…)
Also go and listen dissertation defenses so you can be familiarized with what they are like.
Research and Travel Awards are available for the following:
— Dissertations
— Travel and conference presentations
— Scholarships
— C&I offer money for travel so you can do that too
— If you are a master's student and want to go, talk to CB & JA about going too
— Please apply for travel awards available through the department
— Let Dr. Brown know if you hear of other funding opportunities
Plan to present sometime at conferences (talk to professors about where you think your work might fit)
— AERA (due date usually in July)
— NAEYC (due date in January)
— National Association for Early Childhood Teacher Educators (due date in march/april)
— Reconceptualizing Early Childhood Education (due date fluctuates)
— Association for Childhood Education International (due date in summer)
— TAECE
— Present at other places too (anthropology, literacy, bilingual ed, science, math, etc)
How students can help support other students and the program:
— Experienced students can help mentor the new/novice students
— Promote our program area and the good things we do among your graduate students
— Help recruit new graduate students (i.e. let us know if you would be willing to talk to interested candidates)
— We need your help thinking about how we can make this a better program for you
— Let us know what we can do to improve advising and mentoring as well as classes
Questions:
— How many students in the program? About 6 master's students, and 14 doc students (??)
— A couple of years ago the graduate program said that each professor could only have a certain number of students…
— How many PhD students this year? One
— How many each year? (now that more have graduated they can start admitting more)
— Are there opportunities to volunteer in a preschool? There is a practicum that master's students can set up for volunteer opportunities…also, you can help out at UTCDC.
— Candidacy – when does the 2-year start… it starts as soon as your proposal is accepted… if you don't finish you have to apply for an extension and it goes to the whole GSE has to approve it
Suggestions from the faculty:
— Go present at places and get your work out there
— Conferences help you practice talking about your work, and also helps you meet other people from other conferences to network…
— Journal articles – key… you can write about something and then pull bits for a presentation
— It might help us to meet periodically — maybe Holly could post things via Geco website and the geco email
Suggestions from the students present:
— Can we meet periodically? To talk about research, publications, conferences?
— Dr. Adair is having a writing group to practice analyzing, and practice writing for journals so email her if you are interested…
PAST MEETING NOTES
Friday, April 30 at LTC Lab
Mica Peterek-Clark set up two excellent technology trainings for us: March 25 we toured the LTC lab and were introduced to the wealth of resources there for us to use (i.e. cameras/editing facilities, tape recorders, transcribers for research, computer assistance, equipment checkout, etc). In addition, on April 30 we had training on how to use interactive whiteboards, digital pads, interactive clickers, and various other technological gadgets. We brainstormed ways to use these items both in grad school and with teachers/studens in the early childhood classroom. It was a great training — thanks, Mica!
Friday, Mar 26 at Shuck Shack
We had a great time with Chris & Michelle Brown celebrating Dr. Brown's UT tenure accomplishment. So many GECO friends were there — it was great to relax and celebrate together!
Wednesday, Feb 24 at 3:00 pm SZB 296
–Thank yous to our social hostess with the mostest
–Dr. Reifel will answer questions
–Kiyomi will talk about Collections & Parties
–Mica will talk about/schedule tours of LTC & AT tours, and Promethean Board Training
Saturday, December 5 at 7 pm Kiyomi's
We had a lovely time eating, laughing, and relaxing at Kiyomi's for our holiday party. No meeting notes — just wishes for a great break. See you in January!
Wednesday, November 11 at 7:30 pm Scholtz
Dr. Brown came and spoke with us and gave us some good insights as to how to manage our time in graduate school. He shared a lot of helpful information, including some tips to remember. Here are three of the big ideas:
1.) Think of where you want to be in 5 years and set some goals for yourself. This can help guide your studies and the choices you make about what kind of research you want to do and what kind of job you are aiming for.
2.) Attend conferences and meet people — not only can you learn tons of information at conferences, you can also network and meet other students and professors. Conferences are a great place to learn about what is going on currently in the field and to make contacts that could help in your future job search.
3.) Remember to find ways to show appreciation for those family members/friends who are supporting you through this journey. Grad school can be very demanding and draining, and it's important to make time for the loved ones who are supporting us in this endeavor.
Wednesday, October 28 at 7 pm in SZB 284
Tentative Agenda:
— Share TA, AI job info: How do people get jobs and what types of jobs are available
Inside scoop — in C&I often TA jobs are reserved for doctoral students. Masters students could get TA jobs in other departments (call departments, ask for the person in charge and see if there is a need. For example, sciences need folks). Other places like Human Ecology may have volunteer opportunities but often the priority is for those in that department. You really have to contact departments. Also, let's talk with each other and give each others names to coordinators when we do get jobs. TA facilitiators in C&I; TA with professors teaching undergraduate classes (look in the catalog). Other job opportunities — Lab School Substitutes (1/2 program); UT Elementary Substitute (thru UTemps); UT Development Center (student worker); oncampus office positions; HireALonghorn; Learning Center (in Jester $11 per hour and have to be available for 10 hours, 2 semester commitment); UT Employment Search; Exam Proctors (thru departments); Tammadge Market Research;
— Vote on whether to have Dr. Brown come and speak November 10 or 11 (or December). November 11 (Wednesday) and we will get word out in class and through email… Scholz Garten at 7 pm…
— FAQ documents: Look over the list from Shawna about FAQ questions that might be helpful to include on a C&I webpage she is designing (and learn answers to some of your questions!). Holly will email sample FAQs…
— Mention CRTE group and upcoming symposium in April (Call for Papers) — Shared flyer. Email Holly if you want a copy…
— Discuss interest in a possible winter celebration December 5 — bring a dish, bring your family. At Kiyomi's..Evites…..
— Happy hour: (first one will be Nov 6 at Crown and Anchor) The rest will be first Fridays at Crown and Anchor 4PM, and third Fridays are Wild Card. Sam will make page.
Wednesday, September 16 at PCL Group Study Room 1.380 — 7 pm
Great meeting tonight! Here are the main points:
We have 8 awesome founding members of GECO and we are in the process of turning in the paperwork to become a registered student organization! Once the paperwork is complete it will take about 2 weeks for everything to be processed by the university.
We also decided to take out the "k" in the name and just call it GECO.
Our next meeting is scheduled for Wednesday, October 28 at 7 pm. The location will be announced at a later date as we have to wait for our organization paperwork to be processed.
Holly is collecting email addresses of EC students so we can form a GECO email list. Tell your friends and email Holly to get your address included in the list!