Contact
Address, Phone, Fax:
Department of Kinesiology and Health Education
The University of Texas at Austin
1 University Station, D3700
Bellmont Hall, Room 849
Austin, Texas 78712
Phone: 512-232-6027
Fax: 512-471-0946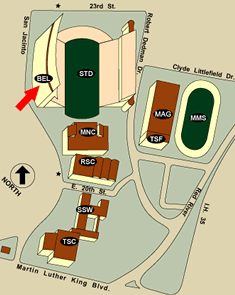 Directions:
The Exercise and Sport Psychology Laboratory is located on the 8th floor of  L. Theo Bellmont Hall in room 849. Bellmont Hall is located on San Jacinto Blvd. on the west side of Darrell K. Royal – Texas Memorial Stadium and across the street from the Ex-Students' Association building. To get to the laboratory, take the elevators in the Bellmont Hall lobby to the 8th floor. Exit the elevators and turn right, room 849 is located down the hallway on the right.  The Exercise Sport and Psychology Laboratory  has nearly 700 sq. ft. of space dedicated for faculty and graduate student research. It is in close proximity to the office space for Ph.D. students, the body composition area, the Fitness Institute of Texas and the weight room and gymnasiums, making exercise studies easy to carry out.