Faculty
Kim Beckwith, Ph.D
IGH Associate Editor and Business/Subscriptions Manager
Kim Beckwith, Ph.D. is a lecturer and the Coordinator of Strength and Conditioning in the Kinesiology Department. Kim met Jan and Terry Todd when she enrolled in a weight training class at UT as an undergraduate. With their encouragement, she joined the Longhorn Powerlifting Team and became one of the premier drug-free, collegiate lifters in the country. She set many American and national collegiate records in two different weight classes, won three national titles, and earned recognition as the strongest collegiate female, pound-for-pound, in the American Drug Free Powerlifting Association for three straight years.
Kim became interested in studying the history of physical culture and exercise while taking classes to earn her master's degree in Sports Administration. She began volunteering her time to Iron Game History as the business/subscriptions manager and offered to help in cataloguing the Collection. Exposure and access to so much unique physical culture history piqued her interest and eventually caused her to obtain her doctoral degree in sport history. Her dissertation examined the life and impact of one of the pioneers of American weight training: "Building Strength: Alan Calvert, the Milo Bar-bell Company, and the Modernization of American Weight Training."
Before returning to graduate school, Kim was a faculty member at Austin Community College, teaching there from 1991 to 2000. Since 1995 she has served as the coach of the Longhorn Powerlifting Team and has directed the USAPL Longhorn Open Powerlifting Championships each fall. She is also currently serving as the USAPL Texas State Chair.
Email: kim@starkcenter.org
Phone: (512) 471-3205
View Profile
---
John D. Fair, Ph.D
Adjunct Professor in the Department of Kinesiology and Health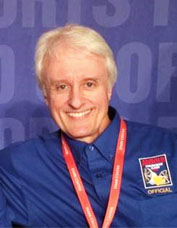 John D. Fair, Ph.D. is an Adjunct Professor in the Department of Kinesiology and Health Education at the University of Texas at Austin. A native of Waynesboro, Pennsylvania, he was educated at Juniata College (B.A., 1965), Wake Forest University (M.A., 1966) and Duke University (Ph.D., 1970). He has also held teaching appointments in Pennsylvania, Virginia, Maine, Alabama, and Georgia. His areas of specialization include British and Irish History, Southern History, and the History of Physical Culture and Sports. Dr. Fair is a retiree from Auburn University at Montgomery (1997) and Georgia College & State University (2012).
As an undergraduate John played intercollegiate tennis for four years and started serious weight training. Since his first meet in 1964, he has competed in 75 sanctioned weightlifting and powerlifting meets. He was also a member of the United States National Weightlifting Committee (1972-76), served as Southeast US Powerlifting Chairman (1973-76), was a judge at the 1973 Mr. America Contest, served as a volunteer in the weightlifting venue at the 1996 Olympics, and has been an official for the strongman competition at the annual Arnold Sports Festival in Ohio since 2002.
John's academic background includes authorship of seven books, including Muscletown USA, Bob Hoffman and the Manly Culture of York Barbell, 1898-1985 (Penn State, 1999) and Mr. America, The Tragic History of a Bodybuilding Icon (Texas, 2015). He has also published 46 refereed articles, 48 miscellaneous articles, and 109 book reviews in scholarly journals. John authored all the physical culture articles in the Encyclopaedia Britannica.
His scholarship has been recognized by various honors, including Alumni Professor of History, 1995-98 (AUM); Fellow, Royal Historical Society (London), 1996-Present; Professor Emeritus of History (Auburn University), 1997-Present; and the Excellence in Research and Publication Award, 2004-5, 2006-7, and 2010-11 (Georgia College).
You can read more about John's involvement in physical culture from Gina Kolata's book, Ultimate Fitness: The Quest for Truth about Health and Exercise (2003).
Email: john.fair@austin.utexas.edu
Phone: (512) 471-0995
View Profile
---
Thomas M. Hunt, J.D., Ph.D
Assistant Director for Academic Affairs
Thomas M. Hunt, J.D., Ph.D. is Assistant Professor in the Department of Kinesiology and Health Education at the University of Texas at Austin, where he also holds an appointment as Assistant Director for Academic Affairs at the H.J. Lutcher Stark Center for Physical Culture and Sports. As a faculty member in the Sport Management and Physical Culture and Sports programs at UT, he teaches classes in sport history, sport law, sport and ethics, and sport, fitness and mass media. With research interests that include sport law, history, and international relations, Dr. Hunt has published articles in, among others, the Journal of Sport History, the International Journal of the History of Sport, and Olympika: The Journal of Olympic Studies. His book, Drug Games: The International Olympic Committee and the Politics of Doping, 1960-2008, is now available from the University of Texas Press.
Email: thomas@starkcenter.org
Phone: (512) 471-0994
View Profile