Stride FIT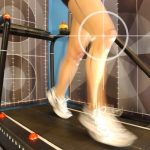 Stride FIT  is a detailed gait analysis that includes high-speed video/data collection on the treadmill (and potentially other surfaces), an evaluation from a biomechanist examining your running form, and a take home report with photos/videos. Our Stride FIT test can provide sound technical knowledge on topics such as these: movement mechanics, foot strike techniques, reducing impact forces, minimizing asymmetries, deciphering muscle imbalances/weaknesses and improving overall running efficiency.
After an initial warmup, the test begins at your comfortable running pace. High-speed video will be collected as your speed increases to race pace and a maximum effort speed. The test will take approximately 1 hour. Actual running time will vary from 25-40 minutes.
We recommend completing both a Stride FIT and Aerobic FIT test for the ultimate performance package. These tests combined will provide the best indicator of running fitness and provide a basis for appropriate individualized training.
Biomechanist, Nicole McLagan, aims to provide a place for recreational to elite athletes to come and learn about their running mechanics. "As a biomechanist, my goal is to work with athletes to examine their running mechanics with the goal of improving running efficiency, reducing the onset or duration of injuries, and making running more enjoyable for everyone. A gait evaluation is the first step to healthier, happier running!"
Sample Results
Download Stride FIT Sample Results (pdf)
---
Scheduling & Pricing
To schedule an appointment, please call 512-471-0081.
Pricing
$100
An in-person consultation with a biomechanist may be added for an additional $40. This consultation will not occur on the same day as testing and will be scheduled 1-2 days post-assessment.
Pre-pay online with a credit card or on-site with credit card, check or cash.
---
Appointment Preparation
The Stride FIT testing will take approximately 1 hour .
In preparation for your appointment:
Do not exercise vigorously on the day of your testing.
Do not eat a large meal 2 hours prior to testing.
Be sure to wear your running clothes. We will be placing markers on your knee so it is best if you wear non-baggy shorts that do not cover the knee. We also place markers on your lower back so it is best if you don't wear shorts with a high waist band and, if you are a female, it is best if you are willing to run with a sports bra and no shirt.
Lockers and showers are available.
Complete the screening form below and bring it with you to your appointment.
Download screening form (Word)
---
Location & Parking
Testing takes place in Bellmont Hall Room 946. Parking is available. You will receive a Visitor's Parking Permit from the FIT staff when you arrive for testing. Refer to Location & Parking for further information.